Don't Let Bed Bugs Infest Your Sumter County Home
If you've been looking for a way to stay up all night, a bed bug infestation is a great option. The thought of bugs living in your bed and biting you while you sleep is enough to keep anyone up, but it's not something anyone wants happening to them. Unfortunately, bed bug infestations have become all too common in recent years. They move around easily by hitching rides on pant legs and inside bags or boxes, and any home can end up with them.
If you think you have bed bugs in your Sumter County home, you mustn't wait to do something about them. Even if you're not sure if what you've seen are bed bugs or not, it's better to be safe than sorry. A simple inspection by trained professionals will verify if you have bed bugs in your house or if something else is to blame, and the sooner a bed bug infestation is discovered, the easier it is to get rid of it. Sumter Pest Management offers bed bug control services to fully eliminate your bed bug infestation.
What Are Bed Bugs?
Bed bugs are small, reddish-brown insects about the size and shape of an apple seed as adults. They go through several developmental stages, beginning as a tiny white egg, then moving through five nymph stages before becoming adults. In the earliest nymph stages, they are small and translucent, making them very hard to see. As they develop, they grow bigger and darker.
Bed bugs don't infest homes as other pests do by entering the house from the yard. Instead, they are excellent hitchhikers, climbing onto people or their baggage and traveling with them wherever they go, eventually climbing off in a new location. You'll often find bed bugs in hotels and other public places, so it's possible for anyone, no matter how clean they keep their house, to end up with a bed bug infestation.
Once bed bugs get into your house, they will begin to lay eggs and increase their population. They require blood meals, which is why they frequent bedrooms; it's easy for them to get a meal when their host is asleep. Although they aren't known to spread diseases, bed bugs are not pests anyone wants in their house, and they require professional pest control to eliminate them.
Bed Bug Control From Sumter Pest Management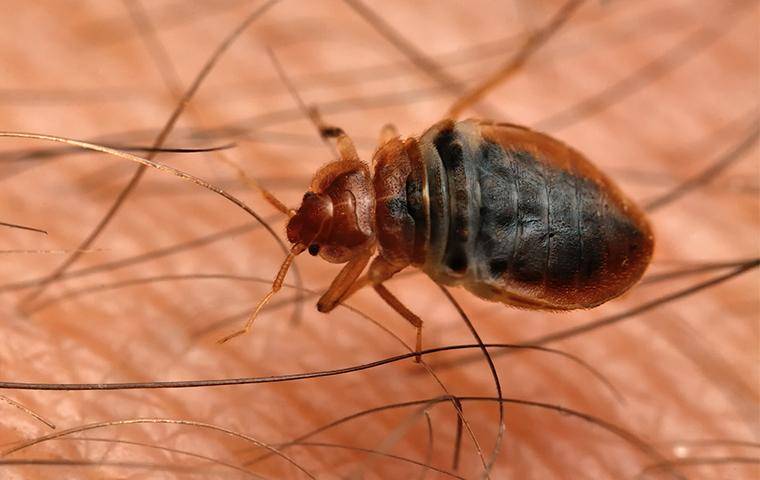 Inspection
We'll begin our service by inspecting your house to verify you actually have a bed bug infestation. Bed bugs and other pests can sometimes be mistaken one another, and it's important to know what we're dealing with before trying to treat them since bed bugs require a different type of treatment than most other pests.
During our inspection, we'll look in all the areas where bed bugs most often spend time. These include:
Curtains

Bed frames

Mattress seams

Furniture

And more
If we find that bed bugs are present, we'll inspect every room to determine how widespread the infestation is and what rooms require treatment. We'll then provide you with a quote for our service depending on how many rooms need treatment.
Treatment
Before your treatment can occur, you must complete a list of tasks to get your house ready for treatment. We'll provide you with the Bed Bug Checklist you can find here, which explains what must be done prior to the treatment.
During our treatment, we use two products. The first, Crossfire, is a knockdown product that provides immediate results on all bed bugs it comes in contact with. The second, Apprehend, is a residual product that provides a lasting effect for any bed bugs that walk across it in the weeks to come.
We also offer mattress encasements for an additional fee. These are installed around your mattress and stop bed bugs from getting into your mattress.
Follow Up
If follow-up services are needed, we will return to your home to re-treat it. Some bed bug infestations are completely eliminated in one service, while others require one or two more before all stages of the infestation are gone.
Your Bed Bug-Free Home Starts With Sumter Pest Management
If bed bugs are keeping you up at night, it's time to call Sumter Pest Management. Our bed bug control services provide immediate relief, and they work in the days and weeks to come to eradicate your infestation in its entirety. To learn more or to schedule an inspection, contact us today.
Learn more about our home pest control and commercial pest control solutions.
Request Your Free Inspection
Complete the form below to schedule your no obligation inspection.