About Sumter Pest Management
Locally owned and operated, Sumter Pest Management is a full-service pest control company located in the heart of Sumter, South Carolina. Founded by Gary West in 2018, Sumter Pest Management soon added Jeffrey Floyd to our team. Together, both men have over 25 years of experience in the pest control industry, and they have the shared goal of making sure each customer knows they are important and that their pest control needs matter, no matter how small the pest or how big the job.
Why Choose Sumter Pest Management?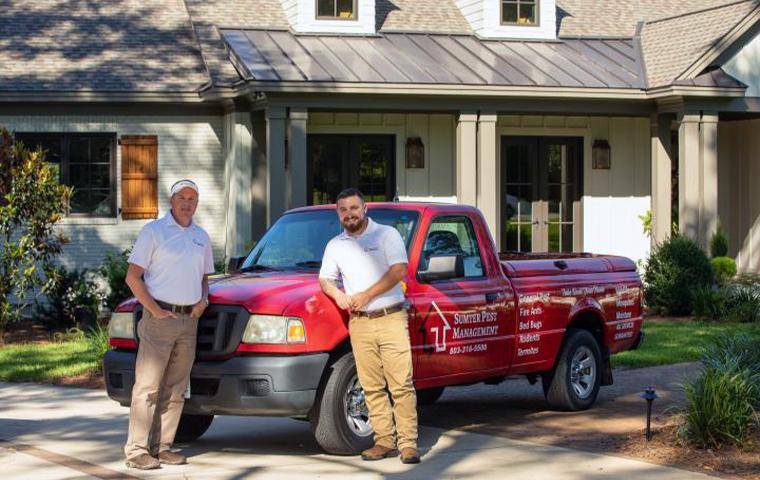 You can feel confident in your choice of Sumter Pest Management.
We are a local company that understands local pests.
We are family owned and operated.
We have over 25 years of combined experience in the pest control industry.
We care about every customer we have.
We provide the personalized support you need.
We always strive to provide the best service at the best value.
We work with honesty and integrity.
We offer all the benefits of a big company with the personalized attention only a local company can provide.
We are highly knowledgeable in our field.
We are a faith-based company.
We offer home pest control and commercial pest control services.
We provide free inspections and quotes.
We guarantee our services.
We offer same-day and emergency services.
We are members of the National Pest Management Association.
We are members of the South Carolina Pest Management Association.
No Pest Is Too Small & No Job Is Too Big
At Sumter Pest Management, no pest is too small, and no job is too big for our professional team to tackle. We have the experience, skill, and training to identify your pest problems, eliminate them, and prevent them from returning. For all of your residential or commercial pest control needs, contact Sumter Pest Management today.
Request Your Free Inspection
Complete the form below to schedule your no obligation inspection.