Complete Pest Management For Your Manning Home Or Business
Located right off Interstate 95, the small town of Manning, SC, is home to 4,000 friendly South Carolinians. With Lake Marion nearby, we enjoy our recreational water activity, and we're even home to the annual Striped Bass Festival. It's really a great place to live, and pests couldn't agree more. These unwelcome guests are eager to get into our homes and businesses to access food, water, and shelter. Once they get inside, they can be hard to get rid of, leaving us in the middle of an infestation.
The best way to protect yourself from a pest infestation is with help from a team of professionals. Welcome to Sumter Pest Management, your local source for quality pest solutions. We are a family owned and operated company that has been providing complete pest solutions to properties throughout Clarendon County and the surrounding areas since 2018. Gary, Jeffrey, and the whole team bring you over 25 years of experience in the world of pest control, and you can count on our personalized services to bring you the pest-free results you deserve.
Home Pest Control In Manning, SC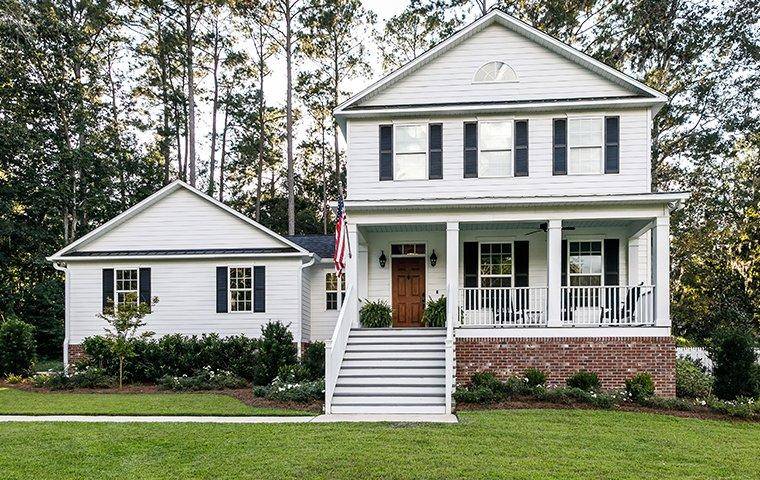 If you own a home here in Manning, it's important to understand the threat of a household infestation. Pest activity puts your property and your loved ones in harm's way, and that's why we offer reliable residential pest control solutions in Manning, SC. Our team has serviced over 1,000 local homeowners, bringing customized pest solutions to all kinds of residences. Some of our home pest treatments cover:
Exterior
De-webbing, de-nesting, bushes and shrubs, entry points, and spraying up to four feet from the foundation
Interior
Baseboards, corners, gaps, doorways, windows, eaves, thresholds, plumbing voids, fireplaces
Along with our general pest control solutions, we offer additional residential services for spiders, flies, fleas, ticks, beetles, silverfish, and earwigs. After we finish treating the premises, we come back as needed to re-treat the area and keep you protected throughout the year. Get in touch with us today for your free quote and inspection.
Commercial Pest Control In Manning, SC
If you want to protect your Manning business from commercial pest infestations, the best thing you can do is reach out to the experts. Sumter Pest Management offers comprehensive commercial pest solutions you can trust. Our team has serviced hundreds of commercial facilities, some of which include restaurants, gas stations, industrial plants, medical facilities, banks, hotels, car dealerships, fair grounds, and outdoor spaces.
We provide business owners with personalized interior and exterior treatments that meet the needs of the facility. Our monthly or quarterly follow-up services give you continued protection all year long. We offer same-day and emergency services to meet your needs, and our pest-free guarantee gives you the assurance of effective results. Should the problem return, we'll come back and re-treat the facility at no extra cost.
How To Avoid Bed Bug Infestations In Manning
Bed bugs are nocturnal pests that all Manning property owners should be aware of. They are parasitic intruders that hide during the day, waiting until we are asleep to emerge and feed on our blood. If you want to avoid experiencing bed bug activity in your home or business, it's important to take the necessary preventative measures. Here are some tips you can try:
Check all items for bed bugs before bringing them into your home.

Reduce clutter and maintain cleanliness around the house.

Steam clean upholstery, curtains, and other fabric items.

Use mattress and box spring encasements to prevent any bed bugs from getting in or out.

Wash and dry all linens, bedding, and clothing on high heat.
These tips are a great place to start, but for complete bed bug control services all year long in Manning, SC, it's a good idea to rely on the pros. Here at Sumter Pest Management, we offer thorough bed bug inspections and treatments that promise to eliminate infestations from your property. Call us today to discuss your bed bug control needs; we're here to help.
Manning's Handy Guide To Eliminating Cockroaches
Finding cockroaches in your home or business is upsetting on many levels. The fact is, cockroaches are extremely unsanitary pests and linked to a long list of diseases. When they get into our space, they cause widespread contamination and expose us to serious health consequences. The best way to approach cockroach control is to be preventative. Here are some tips to help you minimize your exposure to roaches:
Apply weatherstripping around windows and doors.

Don't leave any food out, pet food included.

Fix leaky pipes, faucets, and downspouts.

Install dehumidifiers in moisture-rich areas.

Keep your property clean and free of clutter.

Reduce sources of humidity and excess moisture.

Store your food in sealed, airtight containers.

Sweep beneath the stove and fridge; keep your household appliances clean.

Take out the trash regularly and store it outside in a sealed bin.
Dealing with cockroaches is a nightmare that no one wants to deal with, especially not alone. The most reliable way to protect yourself from an infestation is to call in the team at Sumter Pest Management for all of your cockroach control and prevention needs. We'll help you identify the issue and eliminate it, guaranteed.
Request Your Free Inspection
Complete the form below to schedule your no obligation inspection.